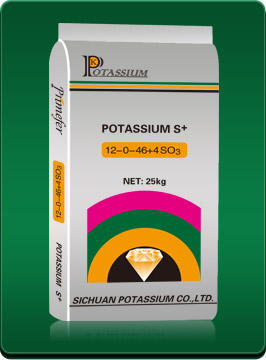 Packing size: 25kg /500kg/1000kg
Potassium Nitrate---S+ (12-0-46+4 SO3)
Properties

PRIMEFER Potassium Nitrate S
+
is a crystalline/powder fertilizer with a high degree of purity and solubility, this formula specially with sulfur which is a part of several amino acids, and is therefore a component of most proteins. Sulfur has a role in initiating protein synthesis and is a part of flavor compounds in mustard, garlic and onions. It is also a part of some vitamins and many enzymes.
Free of chloride, sodium and any other harmful elements for the plant. This product is specially suitable for the middle and late stage of the life cycle of crops that require Potassium and sulfur.
PRIMEFER Potassium Nitrate S+ ensures maximum assimilation of the nutrients by the plants. The use of this product enables to obtain quantitatively and qualitatively high productions with a more intense coloring and a higher sugar, flavor and aroma content.
USE:
Fertigation, foliar application for all crops.
Packing :
25kg /500kg/1000kg
N as Nitrate

≥12%

K as K2O

≥46.0%

K

≥38.1%

SO3

≥

4%

PH

5.5-7.0

Moisture

≤

0.2%

Insolubles

≤

0.1%